Every person with disabilities has the right to develop and use his/her artistic, creative and intellectual potential, not only for his/her own benefit, but also to enrich a society culture.
Circular Attraction offers to persons with disabilities a space for learning and developing through artistic expression. We create and learn through art in a circle, in round, and in community.
In its second year, Nicole Kiesevich (dance), Melina Deville (plastic arts), Miriam Cerdá (theatre), Lelio Sánchez (radio) and Lorena Costantini (photography) are in charge of developing this program.
Daiana Guillermina Arocena Paniagua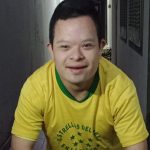 Jesús Camilo Cruz Bernal.

Gloria Yolanda Feo Gonzalez.
María Guadalupe García Villanueva

Fanny de los Angeles Cachipuendo

Astrid Lucia Zambrano de Cornieles
*Notice: media content displayed in this entry may be temporally available only in Spanish.